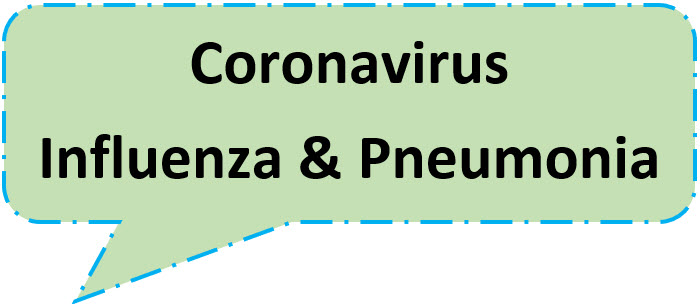 Welcome to the Influenza & Pneumonia group page. If this page is of interest please join this group and be listed within its group directory allowing others to communicate with you. Searches are capable of results within a nearby zip code radius by going to the MEMBERS MAIN TAB. Don't forget to also log in with your free membership and complete any section that applies to you by building your editable profile. Only enter sections that apply to you and change whenever you wish. What a great way to list if you're looking for training partners, if you offer a training location, if you're a promoter, referee, sports photographer, and much more.
Prevention Tips
Clean your hands often.

Don't touch your eyes, nose or mouth.

Keep 6 feet away from others when possible.

If you feel sick, stay home when you can.

Listen for orders from your local government to stay home.

Cover coughs and sneezes with your elbow.
Who Is at Higher Risk?
People aged 65 years and older

People who live in a nursing home or long-term care facility

Other high-risk conditions could include:


People with chronic lung disease or moderate to severe asthma
People who have heart disease with complications
People who are immunocompromised including cancer treatment
People of any age with severe obesity (body mass index [(BM]I)≥40) or certain underlying medical conditions, particularly if not well controlled, such as those with diabetes, renal failure, or liver disease might also be at risk



If you would like your article considered for being displayed on
this page please submit your article by clicking here.



Facemask

If you are healthy, the WHO recommends that you wear a facemask only when you are taking care of someone suspected to have the COVID-19 Virus

Disinfectant

The EPA has published a list of disinfectant agents to use against COVID19. That list is published below and can be found here.


Submit your application by clicking here if you would like to become a group administrator for this group. Group administrators have Greater control over content, links, e-mails to group members and much more. Promote your sport and become a recognized leader.


3D Medical Animation of the Wuhan Coronavirus